---
NOTE: Anything highlighted in red has NO EVIDENCE linked to it.
---
Chapter 1. The Real Toby Turner
On April 8th 2016, YouTuber AprilEfff/April Skywalker, released a "Tobuscus Rape" Tumblr post claiming that Toby Turner had abused, raped and even drugged her during their relationship of 2013. The story was later narrated for Dan Keem's news show, Drama Alert where it started to receive huge attention from the YouTube community. It's difficult to confirm that AprilEfff, who's real name is April Fletcher, was actually dating Toby however her early Instagram posts prove that she was in fact close to him. This is happening roughly a year after the Sam Pepper allegations. So did Tobuscus rape and drug his ex-girlfriend?
>> Read About The Entire Sam Pepper Story Here <<
One user commented on her Instagram post dated March 12th 2012 asking how she knew Toby and her response was "we're good friends" which aligns with her story that their relationship was kept quiet. April Skywalker can also be seen alongside Shane Dawson, Jason Horton, Michael Gallagher, Tay Zonday, DeStorm, Philip DeFranco, Jack Douglass, xJawz and iJustine in her old Instagram pictures. Some of her old tweets also suggest that they had connections and relationship problems.
Toby met April at E3 of 2011 where she appeared in his video titled "HOT E3 2011 RECAP (with Tobuscus)". Toby circled her repeating his well-known line 'hothothothothothot' (pronounced hawt-atatatatat) and then breaking the ice by saying "It's okay, I'm really funny, so it's okay".
A day before the Tumblr post was published April sent out a tweet stating that she had just seen her "abusive ex's toy in Toys R Us being marketed to kids" which she later stated – in the post – caused her a panic attack. (The toy was a 2.75″ Tobuscus Tube Heroes Action Figure.) Another user named Jerry tweeted her asking her to reveal which toy it was so that he wouldn't ever "buy them for [his] son" but she denied his request explaining that "if I didn't live in fear of retaliation every day, I would openly answer this". Toby's toy is no longer available on the Wal-Mart website. The toy has also been removed from the Tube Heroes website which now features 19 toys instead of 20.
When you see your abusive ex's toy in toys r us being marketed to kids. They're selling a sexual predator and don't know it.

— April Rogers (@AprilEfff) April 8, 2016
April says in her post that she is "NOT the only one who has experienced the abuse from him". She also reveals that Toby would act like "a god" to where he thought "he was immune to all rules". They soon got into an argument over the subject of abortion after he said "some girl was aborting his baby". She states that he punched a crack in the wall but later covered it with a calendar before calling her a "faggot" (a term he would often use) and stating that he hated her blonde hair (which she later dyed brown). She then goes on to state that he forcibly had sex with her as she cried for him to stop. She goes on to tell the story of how Toby slipped MDMA into her alcohol (a deadly combination of substances) before apologizing in tears for what he had done. She doesn't remember anything after that. Some user's have claimed that on the night during which April was drugged (February 26th) she uploaded an instagram photo of her at a party with friends contradicting her story. However, April proved that the image was a repost (from a party two days before on the 24th) from Jessica Villarreal's instagram page. Toby Turner soon privated the vlog he made on February 27th, the day after that April claims she was drugged and raped on.
Accuse woman of lying of abuse without proof, yet hate when we screenshot? 🤔 #tobyturner pic.twitter.com/shfORqc8Kr

— April Rogers (@AprilEfff) April 8, 2016
April states that in 2014 Toby explained that he would be performing "The Depressing Song" (a song they wrote together) at the convention known as 'Playlist LIVE' (She also claims to have helped create 'Get Bloody' and the 'Hunger Games Literal Trailer' on her channel). Toby told her that he would not be able to get her tickets which angered her since it was their song they played together. With help from a friend she managed to purchase her own tickets to watch Toby perform but later that night almost committed suicide after being betrayed by Toby. She then decided to finally leave Toby. Toby continued to spam her with text messages after that. She ends her post by saying "He is a sick sick man". I personally see her as a desperate friend who wants Toby to get help yet is still angry about what Toby did. It's since been questioned as to whether or not April was telling the truth since many dates in April's story do not match up. On the 11th of April 2016, 3 days into the drama, LeafyIsHere brought attention to a tweet from October 2007 – before Toby was famous – in which he joke's about how he treats women.
I like my women like i like my napkins. I use them, then put them into a bag.

— Toby Turner (@TobyTurner) October 16, 2007
Who is Toby Turner?
Toby joined YouTube on Oct 17, 2005 (8 months after YouTube was launched) under the username 'Toby' however only ever uploaded 2 videos to this channel. On May 14, 2006 Toby then went on to create 'TobyTurner'(2m subs) his vlogging channel where he invented his own style of daily vlogging known as 'lazy vlogging' where he would upload directly from his iPhone with no cuts/editing. The channel currently receives 20k views per video which is a drop from 150k a few years ago.
On Jun 14, 2006 he then launched his main channel 'Tobuscus' (6.3m subs), originally called 'TobyJoeTurner', which became famous for his CuteWinFail show, his viral literal trailer series and also other songs, parodies and animations. According to Google Trends the channel peaked in popularity at around June/July 2013 during the time he was creating a lot of high quality content including his very popular "Tobuscus Adventures" animated series which received up to 13m views per episode. It was around this time that his iPhone game "Tobuscus Adventures: Wizards" received $644k (£453k) in funding ($240k original goal) on IndieGoGo. He was also creating a large number of videos featuring his talking dog Grphon for a series of TV adverts for Cartoon Network and also appearing on DaneBoe's Cartoon Network show titled "The High Fructose Adventures of Annoying Orange" as Nerville. As his channel began to decrease in content, so did the views with each video receiving roughly 500k views.
On Jul 31, 2010 TobyGames (6.9m subs) was launched and became known for the Happy Wheels and Minecraft series. The channel today receives on average 40k views per video although more popular games can reach up to 150k views.
---
Chapter 2. More

"Tobuscus Rape"

Accusations
(UPDATE: Amelia has removed her video.)
After the post was made another smaller YouTuber and Playboy model by the name of Amelia Talon came forward with a Tobuscus rape allegations video (the video has since been removed) in which she states she does "not doubt April at all" and has "witnessed first hand what he does to other women". She claims that he had on multiple occasions became "sexually aggressive" and even heavily pressured her and tricked her into taking Ecstasy (MDMA/Molly) and Cannabis (Marijuana/Weed).
On March 8th 2014, Toby accidentally left a smoking pipe and lighter in the background of his Walking Dead playthrough video, on his most popular channel TobyGames, which caused a small controversy on Reddit and in the YouTube comments. Cannabis is a Class-B drug however is medically legal in California and so it's unsure as to whether Toby was purchasing it legally or if the pipe was being used for that at all. Although, MDMA is a Class-A drug which could land Toby in prison for up to 7 years for possession or 25 years for supplying it to April and other ex-girlfriends. Amelia claims in her video that Toby would get his "MDMA from pornstars" who he later cheated with. One day later he published a 'lazy vlog' titled "I'M GOING TO JAIL" in which he claimed that the pipe was sent to him by a viewer.
She also talks about their duel play through of Diablo 3 revealing that he refused to wear pants throughout the entire playthrough which led her to uncomfortable. She says that she was pressured into sex to the point where she was texting for her friend to come save her. She talks about Toby's constant struggle to commit to a relationship as one second he'd be trying to get to know her and the next he wanted her gone. She then goes on to say that she caught him with other women which he admitted to doing through text messages but claimed it was a test to see if she would burn his house down. Ironically, a few months later Toby was involved in a house fire during December 2015. She explains that a lot of April's story sounded a lot like Toby and that she thinks he "feeds off drama".
.@AprilEfff there are many monsters in this "community" & it takes serious balls to open up about shit like this. I support you 100%, Girl!

— Bree Essrig (@BreeEssrig) April 8, 2016
I support @AprilEfff. I saw similar things happen to my best friend. with #TobyTurner. Never be afraid to speak up. https://t.co/F7d5G7WUFq

— Pamela Horton (@PamelaHorton13) April 9, 2016
Only thing I wanna say: the YT community has known for years that Toby Turner is a monster. The thing w April is terrible .. & unsurprising

— Manzi (@Manzinat0r) April 9, 2016
I stand behind @AprilEfff & @AmeliaTalon. @TobyTurner can defend himself in court, if he's claiming innocence.

— Michele Morrow (@michelemorrow) April 9, 2016
More abuse within the YouTube community. We support you, believe you, and have your back 100%, April. #Tobuscus https://t.co/hOslIfOqVC

— Laci Green (@gogreen18) April 12, 2016
Bree Essrig, an actress and victim of sexual assault, known for her work with TotallySketch (Michael Gallagher) and SourceFed (Philip DeFranco) replied to April to say "there are many monsters in this 'community' & it takes serious balls to open up about shit like this. I support you 100%, Girl!". Pamela Horton, Manzin DeYoung and Michele Morrow also stated that they support April. Laci Green added to the conversations uploading a video discussing false rape accusations breaking down the myth that of false rape reports. The 7th most subscribed YouTuber, Jenna Marbles, also showed her support for April by liking her tweet. Logan Rapp, Editor-in-Chief for New Media Rockstars, claims in a Medium post that Toby "forcefully made out" with an employee. Logan demanded for Toby to apologize or leave yet neither of these two requests were met. Instead people bought him drinks and when Logan questioned why nobody would talk about it he'd often receive the reply "because he's Toby". Melanie Murphy (342k subs) left a comment on Amelia's video stating that she had been living with Toby up until he cheated and believes April and Amelia's stories. She later uploaded a video explaining her experience with Toby and revealing that Toby had been trying to sort out his own mental problems including depression and ADHD through therapy.
Clare Lourdes (who I personally remember) who publicly hung out with Toby for a long period of time came forward with a Facebook post to say that she had had a similar experience (that has since been cleared up) that she does not wish to go into. It was also confusing as to who she was back in 2013 and why Toby was with her. Many comments would speculate that she was his sister or niece while others stated that she was his assistant. It was later revealed that Clare was Toby's assistant who he also dated.
However, Tobuscus is most well known for dating Olga Kay and Justine Ezarik who are yet to comment on the situation. (Onision has tweeted Olga prompting her to comment.) Update: Olga Kay has posted a tweet claiming that she was never "drugged or raped" and that she is "okay". Later a video emerged where Olga states that she thinks Toby might have roofied her but then laughs it off as if that could have never happened. It's been rumoured that Justine will speak out in People magazine against Toby.
I know you guys are waiting for me to say something.

I was never drugged or raped or felt unsafe in any way.

I am okay don't worry.

— Olga Kay (@OlgaKay) April 9, 2016
Back when Toby and iJustine broke up (proof they dated) it was big news however it was never revealed as to why they broke up. I feel as if a comment from iJustine, a highly respected YouTuber, would easily sway the opinions of the masses. TomSka (creator of the ASDF movies) who says he's "usually quick to shout out about abusive YouTubers" but this one is news to him so he'll just wait until he's proven guilty. I put out a Twitter poll to see how the community currently felt about Toby at this moment and these were the results. 60% (554 votes) believe the allegations.
Do you believe the #Tobuscus Rape allegations? #DramaAlert #tobyturner

— George & Danny (@BakerBrotherTV) April 9, 2016
Tara Babcock, a ex-presenter for ZoominTV, posted a vlog in which she claims to have been the one to introduce Amelia to Toby. She explains that Amelia wasn't completely truthful in her video and declares that Amelia was actually married when she slept and took Molly with Toby. During the journey home from Toby's Amelia said "I finally know what love feels like". Tara reveals that she was a big fan of Toby and this can be proven from an earlier bucket list video with one of the items being "Seduce Toby Turner". She expressed to Toby that she was in an open (non-monogamous) relationship which Toby loved the idea of.
She then affirms that she didn't like "his affinity for drugs". Toby always wanted her to take Molly which she would always biologically react poorly to. Tara then gave a remark about Toby's tendency to push girls too far and that he would need a lot of validation and would text her his videos before they went up. Did Toby Turner rape her? Well she expresses that Toby never stepped over any boundaries that she set and that she was never even verbally abused. However, she did claim that Toby was definitely mentally unstable and damaged.
She even goes as far as to say that she couldn't imagine Toby raping anybody since he was the one that felt uncomfortable when she asked him to "choke her" during sex. She expresses the opinion that April is "f*cked up" for ruining the career of someone who is already so fragile. Tara reveals that Toby was in fact the subject of her video, "MY SLUTTIEST MOMENT", where she describes her story of meeting a celebrity, getting drugged by the celebrity and then having sex with them.
Whitney Moore then posted real text message screenshots between her and Toby in a tweet that show Toby apologizing for groping her at a party. She claims to have seen the "ugly side of Toby" when he's a "tonguey creep".
For anyone following the @TobyTurner story: I stand by @AprilEfff and every other woman I know he's hurt. pic.twitter.com/wzY3IkKbiv

— Whitney Moore (@TweetneyMoore) April 11, 2016
Chris Thompson (@supricky06) who claims to have known Toby since 2007 (towards the beginning of YouTube) states that "he was a very different person back then". He says Toby's "erratic behavior and flakiness" was possibly the cause for the end of their friendship. He suggests that the popularity may have gone to his head." He suggests that if you're a "pretty girl in the YouTube community" then you've probably got "a Toby Turner story". He says that he's heard a lot of these stories with all of them consisting of Toby being too pushy and drug abuse. Chris claims that he too is a victim of rape and was laughed at when he came forward. Chris states that fans should stop idolizing their favourite YouTubers since some will use that power to take advantage of them.
Kate Elliott, also known as KateInRealLife or Katers, published a post on her facebook page disclosing that during 2014 she was found in her apartment disoriented and was taken to the hospital by her friends. She believed that she may have been drugged and asked her close friend, Toby Turner, if he had anything to do with it. Toby denied that he was involved. However, when April released her post it almost confirmed for Kate that Toby was in fact the one who drugged her which was something that had been playing on her mind ever since the incident that she kept quiet about on social media. She says she won't go into any more detail since it would "give you nightmares" and that "those details are for the authorities".
However, Seth Hendrix (a friend of Toby's who came with him to his London Hyde Park meet up that famously went wrong as fans almost injured themselves climbing over fences forcing Toby to leave early in a taxi and for the police and ambulances to turn up), later created his own long and detailed Facebook post (along with 10 text message screenshots) revealing that Kate's reason's for visiting the hospital was due to a schizophrenic episode while she was "off her meds" involving hair shaving and voodoo items. The problem wasn't that she had been drugged, the problem was that she hadn't. Even Kate's ex-fiance, Cory Williams (SMPFilms), tweeted to say that Seth was telling the truth.
@emme_ics What Seth said was true but I'd rather not be involved in any of this. I did what I could to help and moved on.

— Cory Williams (@smpfilms) April 13, 2016
However, Kate's current boyfriend, Bob Macauley, replied to Seth's post claiming that Kate was never diagnosed or medicated for schizophrenia (which Seth agrees with) but instead ADHD. He claims that the symptoms of a mental breakdown and an MDMA overdoes are very similar and that we should be aware that it's possible Toby drugged her and then freaked out when she reacted negatively leaving her with PTSD after the incident. He states that Kate isn't lying and has spent the past few days crying.
Seth goes on to say that Toby "can be incredible arrogant, self-centered, even obnoxious" and that's something he needs to work on but in all his eight years of knowing Toby he's never seen Toby "act violently towards anyone" and that Toby is "not a bad person". He explains that he has witnessed Toby being unfaithful although he's also seen those same girlfriends "treat him like garbage, blackmail him, threaten him and his career, cheat on him, and use him for his money and influence."
Philip DeFranco, creator of SourceFed (or as I like to call him – the business man/entrepreneur of YouTube), posted a video sharing his thoughts on the situation. Phil has worked with Toby in the past on a gaming channel called "LikeTotallyAwesome", on a show called "CuteWinFail" and on Toby's "Darkness, Redness, Whiteness" posters. Phil starts his talk by saying "Toby is a very complicated person" and goes on to describe Toby as "a different person off-camera" but still just as "energetic". He further explains that "Toby is the kind of guy that when he talks to you he makes you feel that you are the centre of the universe." and that he "falls in love with anyone that makes him feel validated" however from "a business standpoint he was far too unreliable and unstable".
He then starts to tell one of his Toby Turner stories (which he claims everyone to have at least "1-5 Toby Turner stories") claiming that Toby "did something indecent in front of one of [phil's] female employees" at a super bowl party. That was as far as Phil went to describe the incident however after some digging around we discovered a recent February 2016 episode of SourceFedNerd's TableTalk titled "PhillyD Needs More Money on #TableTalk" in which he claims that a "dude took his d*ck out" at their superbowl party in an attempt to flirt with an employee (Many say the employee in question was Trisha Hershberger) and then "almost got his ass beat by another employee" (who many say was Joe Bereta).
It was later that a video surfaced showing Toby (who appeared drunk) asking Shira Lazar, host of What's Trending, to kiss him for over 10 minutes as she pulls away. Shira jokes and laughs about what Toby is doing during the entire stream however it's clear that she's not interested. The stream was meant to consist of them watching the movie, Sharknado, so that fans could watch along too but things quickly went bad.
However, when the full livestream was uploaded to YouTube Shira and Toby put in a message explaining that they had set this up to prank Toby's co-host, Tim Baker who can be seen in the video awkwardly asking Toby to stop. The next day Toby also uploaded a video to his vlog channel titled "AWKWARD MOMENT" explaining the same thing. If it was just a prank you'd expect Tim to understand that but he recently put out a tweet claiming that it wasn't planned by saying "Things are often hidden behind the mask of a joke" after one of our viewers tweeted Tim regarding the Sharknado livestream. He also stated that he can't "speak specifics" due to a non-disclosure agreement but he can and will say that "Toby is a much different person off-camera".
I 100% support @AprilEfff and others speaking out. Due to an NDA, I can't speak to specifics but Toby is a much different person off camera.

— Tim Baker (@TimsChannel) April 12, 2016
@RudeStarWarsFan A prime example. Things are often hidden behind the mask of a joke. Don't be fooled. https://t.co/JpyafuK8Wq

— Tim Baker (@TimsChannel) April 12, 2016
Toby's mother, Jackie Turner, then released a statement on her personal Facebook account calling out April for the "Tobuscus rape" accusations claiming that Toby has never touched any drugs and that April only made the claims because she was jealous of Toby's relationship with Olga. The jealousy however may have an element of truth to it  after a Tumblr post came out detailing Toby's relationship with Olga and how April was involved. The post goes into detail attempting to prove April's jealousy and hatred towards Olga by showing old tweets and comments. 
UPDATE: Toby's mother has reactivated her Facebook account after having it deactivated for a few days.
MrRepzion, a.k.a Daniel Sulzbach, who has just under 500k subs, was quick to release his thoughts on the topic in a video titled "Re: The Truth About Tobuscus" where he explains that as a victim of rape himself he's leaning towards this being true. He also states that he truly believes that "Toby Turner does drugs" which he concluded from the way Toby was acting when he met him at PAX Prime. He says "He was definitely high on something, like it was very clear that he was was on something.". MrRepzion thought that Toby's supposed drug use was an irresponsible thing to do around his young fans.
MrRepzion soon released another video titled "Lets Talk About YouTuber Abuse". He talks about his hatred for the use of the phrase "rapey vibes" and expresses that he himself worries about meeting fans since a single word can put somebody behind bars. He explains that fans see their favourite YouTuber's as perfect gods and would do anything to get to hang out with them. MrRepzion asks creators to think before they get personal with viewers and not to abuse this power by letting fans into their lives.
Does this mean that these Tobuscus rape allegations are real? We're yet to know the truth.
Toby's sub count is currently being livestreamed as it slowly drops with some 'meme-tastic' background songs such as Darude Sandstorm, Sonic The Hedgehog's Theme Tune, Why You Always Lying and more. DJ Meemstar Dan Keem from Drama Alert also believes Toby is guilty and has released multiple twitter videos expressing these opinions. Whether or not Toby is guilty it still puts a bad mark on his name and may cause sponsors and even his network to part ways with him. (I personally don't believe that you should join a network if you're a small youtuber which is an opinion I share with PewDiePie.)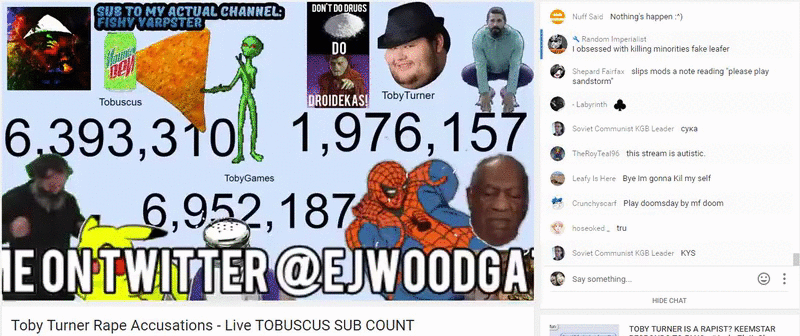 It's been claimed by multiple users that the entire 'Tobuscus Rape Story' is actually based upon the storyline from popular Marvel (Netflix Original) show, Jessica Jones. Even though she should have gone to the police, I can understand why she wouldn't. She says that she still loved Toby and didn't want to ruin his career. She thought he could change and that it was only a small part of his personality.
I grew up watching Tobuscus so I can only hope these allegations being made towards him aren't true however even up until recently I've been saying "I never saw the real Tobuscus, it was like he was constantly putting on an act or playing a role". 
Toby has spoken about his relationships (starting at 57:20) on Rhett and Link's podcast, Ear Biscuits. One of the points that Rhett made was that Toby would keep changing the subject whenever they tried to speak with him about 'the real Toby' and who he was as a person. They state that they hoped to see "the real Toby" but came to the conclusion that Toby is constantly in the 'ON' mode and that's just who he is. Toby talks about how he wrote "The Depressing Song" with April. He described her as "great" at the time of the recording.
Never liked @TobyTurner and have never heard a single positive thing from anyone that has worked with or for him professionally. Stay away.

— Jimmy Wong (@jfwong) April 9, 2016
We reached out to Jimmy Wong, star of Rockjump's Video Game High School and brother to FreddieW, after he tweeted about the Tobuscus abuse scandal. He replied "I can assure you what I have heard are not rumours." Gizzy14Gazza (who has over 1.1 million subscribers) states that he's worked with April and that she "has no reason to be lying about any of this". Popular rapper, Dan Bull (1m subs) released a parody re-edit of one of Toby's old vlogs titled "TOBUSCUS DIABOLICUS" stating "I hope I don't go to hell for this". He later unlisted the video due to a negative response. Alyssa Onofreo, who's within Toby's friendship group, later uploaded a parody of Toby's "The Truth" video to her YouTube channel, OMGChomp.
Steven Williams, aka boogie2988, then released a video two days after tweeting that he only ever met Toby once. He talks about how "young viewers tend to believe the edited version that we put of ourselves on social media and on YouTube entirely ignoring the stuff that ends up on the cutting room floor". I as a creator myself completely agree with Steven. I recently received a comment on one of my second channel vlogs in which a viewer described my life to to look so exciting and fun and I had to explain that they were "comparing our highlight reel to their entire life".
Lots of people asking my thoughts about toby Turner. Spoke to the guy once for 60 seconds. That is all I really know. Sorry.

— Steven Williams (@Boogie2988) April 10, 2016
Max Landis, who April mentioned in her post, agrees that Toby thought he was cheating with April and would get highly jealous. He released a video in which he discuses his own manipulative relationships and how Toby would treat his girlfriends. He also confirmed that Toby was often high on Molly (Ecstasy) at conventions and would attempt to supply it to others too.
Chelsea Jobrennan, who met Toby on the set of a Taco Bell commercial, describes him as charismatic, funny and charming. She claims that "most people can't help but gravitate towards that kind of personality". She explains that they became friends that day later becoming "psychically involved". Chelsea warned that Toby never done anything without her consent. She separated herself from Toby when she discovered "the nature of their relationship". Toby later reached out to Chelsea to meet up. She states that she wasn't interested and explained that she thought their relationship was some more but didn't see Toby feeling the same way. Early 2014 they made an effort to be friends and hung out along with Katers17 (another victim) and a girl named Jenna (possibly Jenna Ezarik?). When Kate left Toby started to get psychical with the girl named Jenna later leading her to the bedroom where she suspects that they had sex. Chelsea says that she found this disrespectful and left. Chelsea wants fans to know that Toby has "a lot going on in their head that isn't right, that isn't all together" but she isn't accusing him of sexual assault.
Popular video game commentator, Pyrocynical then called out Keemstar from Drama Alert for not putting  a disclaimer in his video reminding viewers that there is no publicly available proof and that nobody should attack Toby's videos with negative comments and ratings. Toby's channel has since been flooded with hate. Keemstar replied to  Pyro via a Twitter video in which he shouts about having respect for his fans opinions and that he won't treat them like children. However, all audiences have a percentage of children and it's those children that will be the one's to attack other channels. Keemstar later stated that he over reacted but still found Pyro's comments to be "disrespectful".
Jaclyn Glenn (another one of Toby's ex-girlfriends) who has 402k subscribers posted a vlog in which she says during their relationship several girls warned her about Toby but she didn't trust them since she later saw the same girls flirting with Toby. April Fletcher was one of the girls that warned Jaclyn through Facebook however several months later they were hanging out again which also confused Jaclyn. She says that after she started dating him they "had a lot of problems" and that "there were situations where I felt pressured to do things that made me uncomfortable". She clarified that she was never forced but her trust had been broken after she caught him in lies. She says that Toby isn't very good with monogamy which is something she desired. She broke up with him but got back together after Toby apologized. She found questionable items at his home during his trip to Canada and caught him "texting inappropriate things to other people". She later discovered that he has been with a girl during his trip to Canada who he later dated.
Keemstar's Fake DMs
Jack Holmes, a football based graphic designer, who was being followed by Toby Turner on twitter, published a twitter video in which he exposed private DMs that he received from Toby on his backup account called NotJackHolmes. Some speculated as to whether or not the DM's were real or not which prompted Jack Holmes to upload another video showing him opening the DMs on screen to prove that there was no editing involved. Jack Holmes has since made both his twitter accounts private most likely to avoid giving his business a bad name. Toby tweeted out on august 3rd 2014 asking for people to tweet him what you're "brilliant" at since he was "assembling a wizard team" and currently needed an "iphone/mac lord". Jack tweeted Toby using the hashtag (#helptoby) he provided explaining that he was good at hacking. Jack's tweet was later removed. Toby followed Jack but never replied to his DM until 3 months later.
The DM's show Toby saying "I gave this girl something" which implies that he drugged her and is admitting it to Jack. He also confirms that one of the girls that he was involved with "has some proof" which implies that proof exists and he's admitting he knows this to a stranger. Some have questioned as to why Toby never gave Jack the girl's name yet asks "did you do it yet?".
NOTE: Toby's incriminating confessions will be highlighted in green.
—
4th August 2014
Jack: Wow, thank you so much for following me, what will I be doing? :)) 
14th November 2014
Toby: okay need your help now, reply when you can.  this bitch has something on me can you help me 'get rid' of it?
Jack: Ummm what do you mean. What do you want me to do?
Toby: just take her offline for a bit until my legal team sort her out. she has some proof of something I did
Jack: What sort of proof if I'm going to be working like this I need to know it all.
Toby: she has a video and photos of me at a party, just I gave this girl something and she was out of hand we were involved with each other just do it now
Jack: okay, I'll keep her off for a day or two, but I better get paid
Toby: yes whatever just do it, these photos can NOT get out there. did you do it yet?
Jack: No. I can't do this. Sorry. Get someone else to.
—
UPDATE: The DM's have since been claimed as fake. It's been suggested that Jack used a combination of 'Inspect Element' to edit the messages and 'CTRL + 1,2 or 3′ to switch tabs. 
Toby made videos on his vlog channel stating that they didn't spend enough time together which caused his fans to send hate towards her social media. They later got back together but she caught him texting another girl. She claims she heard that April was the one to introduce Toby to Molly (Ecstasty). She also claims that Toby used 5-HTP, a legal herbal supplement that would counter act the negative side effects of MDMA like depression and anxiety.  She says Toby likes compliments, praise and enjoys feeling attractive and wanted by people. She claims that this is why Toby struggles with monogamy. She claims that when she didn't act interested it would turn him off and so she couldn't imagine Toby actually raping April. She does however back April up regarding the clothes ripping stating that that is a thing Toby does since he thinks girls like it. Her overall point was that he's not a criminal but he's definitely a bad boyfriend. It seems that Toby is currently dating a girl called Emmy. A small ASMR channel by the name of Mr J Tingles uploaded a video in support of Toby claiming that he had a phone call with Toby's mother, Jackie Turner or Mombuscus, in which she called out April for lying. Jackie claims that she was living with Toby during the time that the story took place. Toby's mother later shared the video on her Facebook page. She has also started selling #WeLoveYouToby shirts with the profits going to charity and some have claimed that they've seen her twitter adverts (promoted tweets) that she's bought. Toby was later removed from the Vidcon & Playlist LIVE roster meaning he does not have permission to attend. I leave you with a tweet from PewDiePie.
In Toby Turners defence, at least he's not keemstar

— piepiedew (@pewdiepie) April 10, 2016
---
Chapter 3. Toby's Mental Health
"A person I dated a few years ago has just made some extremely serious false accusations about me and I want to be crystal clear. I have never done anything without her consent. I have never tried to trick her into anything. I read her Tumblr post and I was shocked and I was hurt. These allegations are absolutely false. I just wanted to address it. That's all."
Rather than thinking about how we can punish Toby, let's think about how we can help. It's been claimed by multiple close friends and ex-girlfriends that Toby has some minor mental health issues (not that this is an excuse for Toby's behavior). It's known that Toby has speculated that he might have Attention Deficit Hyperactivity Disorder (ADHD). Disorders are simply "labelled symptoms". Physical problems like cancer tend to show with actual tumours/growths confirming there is a problem however mental problems exist only in the mind and can only be categorized by the symptoms you get. That's why you might here the phrase "ADHD isn't real" since it's not. It's a set of popular symptoms that we've labelled. The three main symptoms of ADHD are:
A short attention span or being easily distracted.
Restlessness, constant fidgeting or overactivity.
Being impulsive.
Of course we all encounter some of these symptoms at times but if you identify with all three of those symptoms and you know that it's causing your life a struggle then you have ADHD. It's hard to truly say if Toby has ADHD however he does portray himself to be "restless, fidgety and over-active" in his videos. I could be wrong but I don't feel as if ADHD is Toby's biggest problem, if that is his problem.
There has also been talks that Toby may have suffered from a depressive disorder (most likely bipolar) which could be backed up from statements Toby made on episode 21 of the Ear Biscuits podcast about his struggle to have a social life since he's so focused on work. One symptom of a depressive disorder includes a "withdrawal from friends" and also "substance abuse" however none of the other symptoms have been mentioned so I personally don't think Toby has severe depression.
One of the larger claims is that Toby abuses Ecstasy (also known as Molly, MDMA, E, X, XTC, Beans, Adam). Ecstasy isn't a physically addictive drug but that doesn't mean it can't take on an importance in somebodies life. The problem with Ecstasy is that it's rarely ever pure (read these drug analysis results) meaning you literally don't know what you're putting in your body. Drugs such as Amphetamine, LSD, 2C, Caffeine, Aspirin, Ephedrine, Atropine, 4-MTA and even MDA have all been found in Ecstasy pills before. These pills are mixed with other drugs in attempt to create the same effects at a cheaper production price. This is why the price of Ecstasy can vary from $3 to $50. If you do use a drug like Ecstasy, it's recommend that you purchase a testing kit (Europe and US) so that you know what you're taking.
Ecstasy tends to:
Diminish inhibitions.
Improve mood to a state of euphoria.
Strengthen feelings of connectedness.
Increase pleasure from physical touch.
Heighten sexuality and sexual arousal.
Increase alertness.
Enhance energy.
Make the user lose track of time.
I personally have always thought that Toby has a very unique personality. It's loud, confident, comedic and energetic. I've only seen him in his videos however Philip DeFranco confirmed that he's "just as energetic" off-camera. Another effect of MDMA is "heightened sexuality" which may coincide with Toby's alleged tendency to flirt around with women. Phil also claimed that Toby was "far too unreliable" meaning he'd be often late with projects and turning up which is another symptom of Ecstasy abuse.
The majority of the claims talk about MDMA (Ecstasy) and a few have mentioned other substances but if the claims are true then Toby needs to stop and the most logical option is rehabilitation. Obviously, Toby's job conflicts with spending 1-3 months away from your home but if it's going to cure your addiction and let you live comfortably then I think it's totally worth it. Some of the L.A rehab centres that I've researched look like freakin' 5 star hotels! (I'm sure Toby can pre-record videos for TobyGames.) I think taking a step back from such a busy life could have a really positive effect on Toby's life if addiction is his problem.
The final, yet most common claim, is that Toby loves validation. In fact, Toby needs validation. When somebody tells Toby that what he is doing is positive he'll light up. Obviously, we all love compliments but many are stating that Toby can't function without knowing what he's doing is right. This suggests that Toby has an obsessive preoccupation with how others perceive him. Validation is the band-aid/plaster for an injury of shame. At some point in Toby's life he received the message that he is not OK as a person. That message would have come from a powerful external source such as a teacher, parent, peer group or even friend.
He would have internalized this perception that who he is truly, is not acceptable or pleasing. This mistaken belief forces Toby to create a mask. In his mind he believes, the only way I can be accepted is if I wear a mask or play a role to hide the undesirable self. When Toby receives validation it calms the anxiety and fear that the mask is breaking. It says "the mask is working" and reminds Toby that "his undesirable true self does not work". Validation addicts are often labelled as "egomaniacs with an inferiority complex". They appear love themselves to cover up that they hate their true self. If you're one of Toby's friends then I recommend you stop validating him for being 'cool' and 'hot' but instead validate his true self which gives him your permission to be his true self. You've just got to find that true self.
An example could be: a girl who often attempts to straighten her curly hair. Tell her you love her beautiful curly hair. State that you wish your hair was as curly as hers. Make it something she can be proud of. Maybe Toby's fear is that he'll be perceived as laid back. If so, tell him you love how chilled out and laid back he can be and that it's your people's favourite quality about him. It's the people around him that need to help.
Whether or not you're guilty, good luck.
If you'd like to help support this article, please retweet our tweet below:
EVERYTHING you need to know about Toby Turner's drug and rape accusations:https://t.co/ZWVgvYnOdf #Tobuscus #TobyTurner #DramaAlert #Rape

— George & Danny (@BakerBrotherTV) April 14, 2016
Comments
comments